Hello. I am Will Carpenter.

Among other things I like sailing.
If a man must be obsessed by something, I suppose a boat is as good as anything, perhaps a bit better than most. A small sailing craft is not only beautiful, it is seductive and full of strange promise and the hint of trouble.
From E. B. White's essay The Sea and the Wind that Blows.

This is me on sailing vessel Querida near the Richmod San Rafael bridge in San Francisco Bay.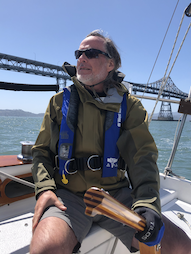 ---
手机:八五七九九九五九七一